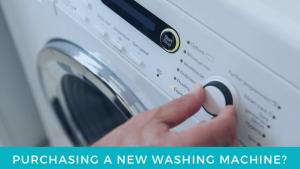 So, you need a new washing machine?  Walking into a room full of different washing machines can be intimidating to say the least, and so often we end up purchasing a machine only to realise later that it wasn't quite what we were expecting.  Before you head off to the shops to make your purchase, take a look at this list of 6 things to consider to avoid being disappointing with your spend.
1. Power Consumption and Water Usage
It is important now more than ever to consider the environmental impact of the machine you are buying.  The amount of water the washer will use to complete a cycle will also be very important for those who are relying on tank water.  If water consumption is your main concern,
front load washing machines use an average of 40% less water than top load machines

.  When considering power consumption, make sure you look beyond the start rating as this can be misleading due to the fact that the star system takes into consideration the amount of water being heated by the machine, so machines that have a higher water usage will automatically have a lower star rating even if you will not be heating water.  It is always a good idea to buy a washer that has both a hot and cold water connection so that you can choose to use your own hot water instead of having the machine heat the water itself.
2. Wash Time
One of the biggest frustrations that can come along with purchasing a new washing machine is discovering that the minimum length of time it takes to complete a wash is much longer than was expected.  Even though front load washing machines are generally the most efficient in terms of water and power usage, they will take a lot longer to complete a wash versus a top load machine.  During a standard wash in a top load washing

machine,

clothes are constantly immersed in water, so a cycle doesn't take as long.  Front load washers are known for taking a lot longer to complete a cycle, even on their quickest settings they can still take up to 120 minutes to finish.
3. Functions and Machine Specifics 
If you have specific ideas about how you want your new washing machine to perform, it is a good idea to research and discuss your needs with the salesperson before making your purchase.  Functions that your old machine had may not be available in all models.  Things that you might want to consider include:
Does the machine use an agitator or impeller to wash?  We find that machines with agitators tend to clean more thoroughly, however impeller's are generally more gentle on clothing.  Don't be fooled into thinking that you can fit more into an impeller model.  Even though they have more space from the lack of agitator, because they rely on water currents to penetrate through the clothing, they will not work properly if you overload them.

Front load machines generally have a higher spin speed, meaning that clothes come out dryer.

Not all machines have the same settings, so if you are used to a particular wash setting that you rely on, make sure your new model has the same or similar setting.

Most newer front load machines give you the ability to interrupt a cycle mid-way-through.  This is handy if you have forgotten to add items to the cycle, or if you notice something has made it into the wash that shouldn't have, such as keys!  It is best to check that the machine you are looking at has this function though if you are prone to needing to interrupt a cycle before it is finished.

If you live in a raised house, consider the noise difference between front loader's and top loader's.  In general, front loaders tend to make more noise than top loaders because of their faster spin speed.  This usually is more noticeable in raised houses or houses with floor boards.

Not all machines come with a child lock option, so if you have little ones, this could be a very handy feature to look for.

When purchasing a machine that has a lot of features and functions listed, make sure you read up on what all of these do.  Some features may affect how the wash cycle proceeds.  For example, some new machines come with auto-levelling water censor.  This function can mean that each wash could sound different and vary in time because of different load sizing.  This could be interpreted as a fault if you are not aware of the function.

Look for a machine that has hot and cold water connections.  As mentioned above, this will save a lot of power in heating the water.
4. Size and Design
As the old saying goes, "Measure twice, cut once".  Or in this case, buy once! 
Always measure your space before purchasing a new machine, and be sure to take into consideration any parts of the machine that may overhang or add height, such as skirting boards or cords

.  If you are inclined to buy a front load machine to save space by stacking, be sure that the model you are looking at has the ability to be stacked, as not all front load machines do.  When purchasing a top load, always measure how much space will be taken up once the lid is open.  You don't want to get your machine home and realise you can't open the lid wide enough!
Also consider the load size that you usually do.  The capacity of different washing machine's vary greatly.  A family with four children would struggle to get by with a 5kg washer, however if you live by yourself, purchasing a 10kg machine would be excessive.
When deciding on the size of the machine, it is also important to note that while front load machines are a great option for smaller spaces, top load machines are lighter and easier to move.
5. Price
There is more to consider when comparing the price of a new washing machine than just the initial outlay.  Consider the running costs as well as the amount you will spend on detergent. 
A new front load machine will generally cost more to purchase than a new top loader

.  However, front loaders are generally much cheaper to run and use less detergent than top load machine's.  When purchasing your new washing machine, also consider purchasing extended warranty as well.  This can save you a lot of money in repairs down the track.
6. Cleaning Ability 
Most people find that front load washing machines perform better at cleaning clothes

.  When comparing agitator verses impeller top load machines, machines that use agitators have been shown to provide a more thorough wash than those with impellers.  Another thing to take into consideration is how often you wash bulkier items such as pillows or large blankets.  Top load machines can struggle to clean bulkier items because they don't completely get immersed in water.
The key to making a successful washing machine purchase is to write a list of key features that the machine must have, research different options, read reviews, and don't be afraid to ask the salesperson lots of questions.